One of the fun things about making homemade slime is that there are so many different ways you can make it! You can make it fluffy, stretchy, more like clay or you can make it crunchy. We're going to show you how to make this crunchy slime, also known as homemade floam slime. You only need 4 ingredients to make this floam and it's really easy to make and will last for weeks!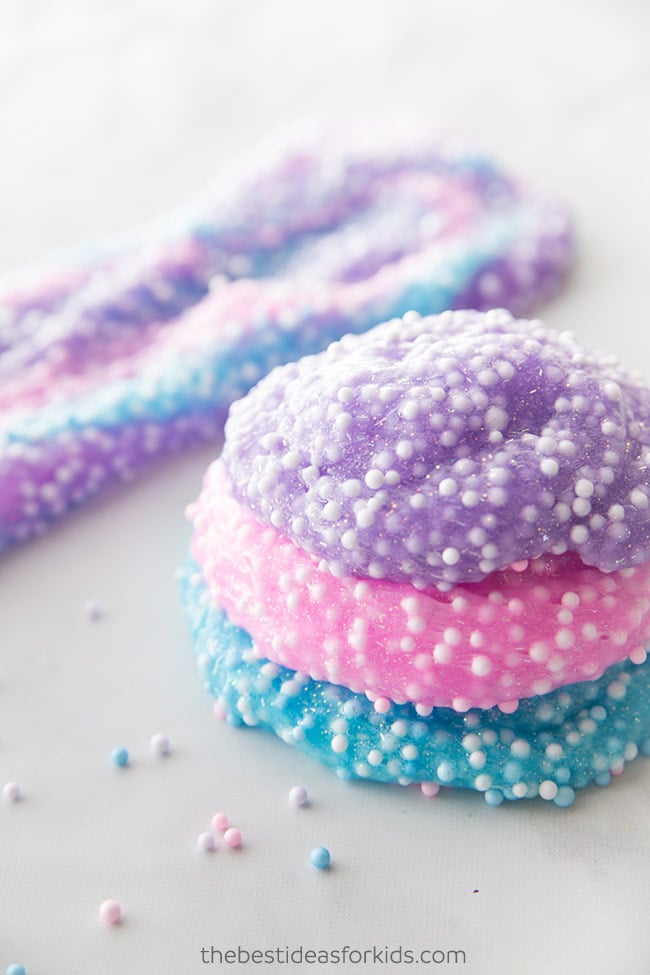 Floam Slime
You probably remember playing with foam or floam as a kid. It's one of our favorite sensory activities. Buying the store-bought floam can sometimes dry out and be really stiff. That's why we love to make homemade floam.
This recipe is really easy to make. It is even better than the store-bought kind because it's a little more stretchy. You can experiment with different proportions of foam beads but we prefer to add a lot in so that it is more similar to what you can buy from the store.
Kids will love helping you to make this floam slime and you can turn it into unicorn floam by making these three colors we chose – purple, pink and blue.  And if you're a fan of unicorn slimes, then we have 2 very fun unicorn slime recipes that would be perfect to make for a unicorn party – this Unicorn Fluffy Slime and a glitter glue Unicorn slime.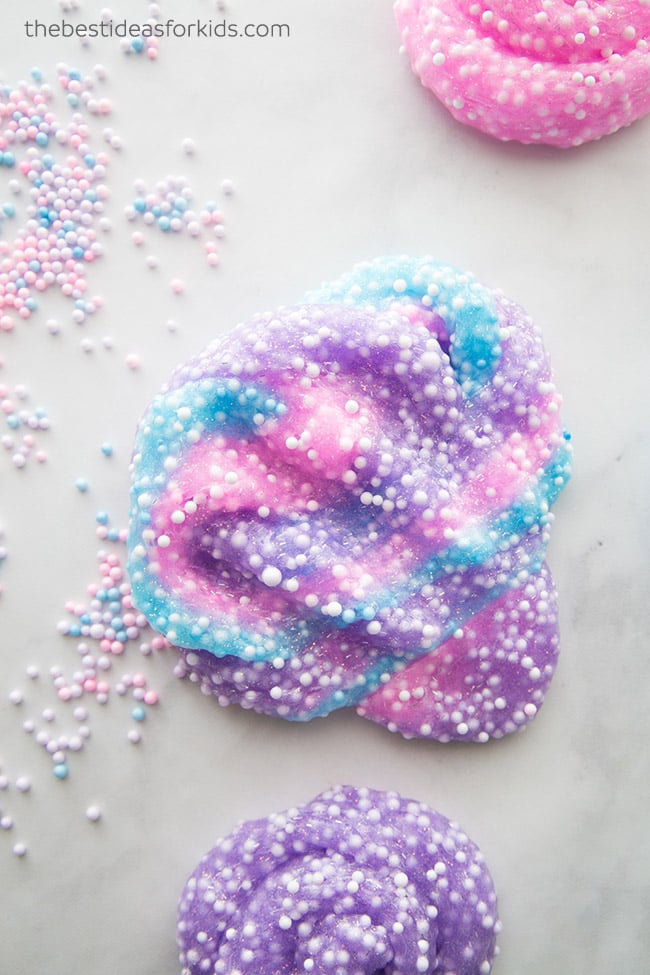 This slime is really easy to make and leaves very little mess on your hands since you don't have to use any food coloring. We like to use Elmer's Glitter glue for this reason. You won't end up with any stained hands from having to color your glue with food coloring. We also love it because you don't need to add any extra glitter which can sometimes come off on your hands.
What is Slime?
Slime is a polymer because it has qualities of both a solid and a liquid. Other examples of polymers are Jell-O, gum and rubber bands. Glue is also an example of a polymer. A polymer is made of long chains of polyvinyl acetate molecules. These chains slide easily between one another making the substance pourable.